Stunning & Engaging Online Stores
PathInteractive provides a wide range of E-commerce website design and development services in Barrie. Our professionals have just the right solutions to convert traffic into your customers. We have a team of passionate designers to create unique and impressive E-commerce website to entice more traffic and deliver desired results.
Our Barrie Ecommerce website developers build interactive, feature-rich online stores that engage your customers and turn them into your certified buyers. We promise to deliver a fully functional website in 15 days and at an affordable price. There is no upfront cost, no contract – just simple web solutions. You pay when your site gets live. We believe in building lasting relationships with our clients, rather than profits.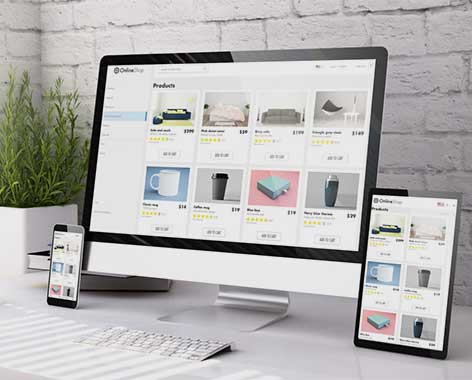 We have got all your Ecommerce website design and development needs covered.
Call today to get started.
Steps to Making E-commerce Website that Works
Initial Consultation
Content Creation
Test & Launch
Domain Name & Pages
Final Approval
Search Engine Submission
Initial Design
The experts of PathInteractive create a beautiful, customized online store. We ensure that your website becomes the face of your brand – whether that involves making small tweaks to improve its looks or a complete design overhaul.
Our Comprehensive E-Commerce Solutions Include:
High Performance, Professional Ecommerce Services
Installation Assistance and Customization by Experts
WordPress E-Commerce Sites
User-Friendly Interface
WooCommerce Plugins
Secure Payment Gateways
One Page Checkout
Product/Pricing Feed, Ratings & Reviews, and Up-sell Features
Smartphone, Tablet and Desktop Optimized
Comprehensive SEO & Online Marketing
Full Control of All Store Aspects
We, at PathInteractive, provide Estores that are professional and effective, helping your business grow online and generate more business. We are here to help you maximize the potential of your online store.
Let Us Help You Create The Perfect Online Store For Your Business. Call Our Experts Now.